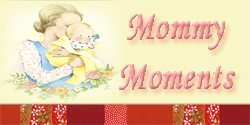 It is another day for Mommy Moments. This week's theme is all about the names of our little ones.... the story behind those names... check out
The Mommy Journey
for this week's entries.
I always wanted to have a pretty name for my child for the obvious reason that I don't like my name.
When I got pregnant and knew that we will have a baby girl... we wanted to name our child in honor of our parents.
Andrea came from her maternal grandmother whose name is Andresa. I omitted the S to make it sound more like non-traditional name.
Lorene came from her paternal grandmother. I like this name as it sounds American...
Janiz is from her paternal stepmother. I just made a different spelling for uniqueness of it.
Anyway, I always insisted that Andrea Lorene is my baby's first names but whenever we go to hospitals or any other places that needs her info... as a typical american style they only use the first, first name. But if I am asked to filled out forms, I always use all her names. I am glad that her records like Birth Certificate, Passport and SSN is in her 3 names. The Janiz by the way is her middle name... Americans doesn't use mother's maiden name as the child's middle name although it is also my choice to do it that way. If I wanted it, I could have used my maiden name as Andrea's middle name but I didn't!