Backyard raising of chicken is very common in the Philippines. It is not only for egg production but also for chicken meat. Native chickens as they are called has better meat than those that are raised for 45days only.
I miss the early mornings where chicken noises wake you up instead of an alarm clock. When chickens are making noises it means time to get up and throw some grains on them.
I remember the days (when we were really really poor... take note, we are still poor) when we have to dress 1 chicken for our birthday. Mom will just put a lot of water in the chicken soup and slice the chicken meat into small sizes and divide it before we start to eat to make sure that all of us gets its share. After we have dinner we will share a bottle of cola which means we also have to divide the cola. Oftentimes each of us will get a share of just half a small glass. Those were the days... simple... without complications...but we didn't complain and we are always grateful of what we have.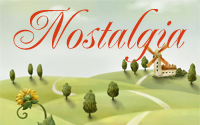 Share your nostalgic moments with us!