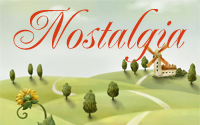 My nostalgia entry is very nostalgic. I found this photo of my grandmother and her siblings in facebook. My second degree cousin uploaded it a week ago. I was so thrilled to see this because I haven't seen a picture of my grandmother since she passed away when I was in third year high school.
My grandmother is a very strong woman. She raised her 5 kids alone because her husband passed away when their youngest was not even a year old. She lived a very hard life. She had a great influence on all of us. She thought us how to value family and how important to make God the center of our lives. She was a very religious person. I remember her waking us up early at dawn to pray the rosary. We surely miss her and I am sure wherever she is now, she is happy with what we have become.
"
We miss you 'Ma and wherever you are please continue to watch over us. We love you.
"
More nostalgia entries at
Nostalgic Marveling
.