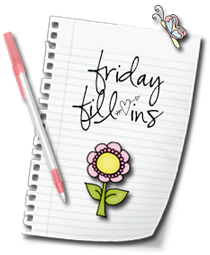 Graphic courtesy of
Tonya
!
And...here we go!
1. That's a
perfect spot
to be.
2.
Why are you looking in different direction
; I'm over here!
3. The possibilities include:
working in the medical field
.
4.
Black bean soup
is one of my favorite cool day recipes.
5. How will you know
if he is the right one for you ( I just know!)
.
6.
Gloomy day
and a stormy sky.
7. And as for the weekend, tonight I'm looking forward to
our movie marathon
, tomorrow my plans include
going to the car shop for a new break pads for our car, which I am not looking forward to but it needs to be done
and Sunday, I want to
go pond fishing (I hope!!!)
!
For more of Friday Fill-ins check it
here!