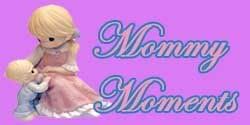 First, I love the new badge of Mommy Moments...

For this week's theme: Look At That Mess... I think all mother's (and fathers) can relate to this. Here is my share of messiness from Andrea...


She loves pulling out our dvds from the rack. We used to alphabetize our dvds but it gets harder to do it because Andrea loves playing with them
Notice the naughty smile? How can you get mad when she does that?
She loves yogurt... and i always let her have fun with it... besides she wants to eat it like a big girl without Mommy's help...
Andrea was not impressed with her first snow experience... She keeps on looking at the mess her feet creates everytime she steps on it... I am sure she will change her mind this coming winter...
Want to look at more Mess? Check
The Mommy Journey
, the home of the messy kids... noooo... the home of Mommy Moments...